Capital Deployment in an Inflationary World: Embracing Cryptocurrency Investment
In an era marked by persistent inflation and market volatility, capital deployment strategies are paramount for safeguarding your wealth. Without proper investment, inflation can devalue your savings at an annual rate of 2-10%, or even more. For instance, a 6% average annual inflation could dwindle $100 million into less than $50 million worth of purchasing power in just over a decade. The path to wealth preservation in this high inflation environment necessitates astute investment, and not just within traditional avenues.
Achieving a 7% return on investment (ROI), commonly accepted as favorable, is no longer sufficient in countries where inflation rates outstrip these returns. In 2022, for example, a 7% ROI merely broke even with the inflation rates in France, Canada, Spain, and the U.S, which stood at 6.2%, 6.9%, 7.3%, and 7.7% respectively. Some countries experienced double-digit inflation, with 28 exceeding an alarming 20%. Here, $100 million uninvested could lose half its value in just four years, starkly revealing the importance of diversification and astute investment strategies.
At CKC.Fund, we prioritize wealth preservation, and our clients - high-net-worth individuals, family offices, wealth funds, and savvy investors - share this view. With expectations for returns in the range of 10-30% or more, these clients look to alternative asset classes that offer portfolio diversification and significant upside potential. We firmly advocate for the inclusion of cryptocurrency as part of this alternative asset allocation.
In a high inflation environment, savvy capital deployment is the only way to preserve your wealth.
The CKC.Fund Investment Approach: Diversification, Risk Mitigation and Asymmetric Upside
An actively managed crypto allocation, we believe, augments the probability of attaining returns that outstrip the overall investment market. While the potential upside of cryptocurrency is substantial, we prefer a more conservative approach than many of our competitors. Through diversification and risk-mitigation strategies, our goal is to generate yields that maintain a significant degree of crypto's high-upside potential while minimizing the inherent volatility within the space.
The potential of alternative assets, including cryptocurrency, real estate, and fine art, to deliver significant returns even in stagnant market conditions, plays a critical role in closing the investment performance gap. Currently, over 32% of family offices already have exposure to cryptocurrency, indicating its acceptance at the institutional investment level. We anticipate a significant uptick in the number of high-net-worth individuals and family offices initiating crypto exposure by 2025.
Crypto assets, by their nature, offer asymmetric upside and growth potential. At CKC.Fund, we blend the principles of value investing, typical of traditional finance, with the high-return potential of cryptocurrency. We appraise the investment potential of a project by evaluating its use cases, past market performance, and the tokenomics involved.
Crypto Investment: Harnessing DeFi and Volatility
Our investment strategies also exploit yield generation within the decentralized finance (DeFi) realm. We generate yield through staking or node hosting services, and by employing strategies such as DeFi lending, DeFi borrowing arbitrage, and automated market making. These strategies prove invaluable across all market conditions, particularly during bearish and sideways markets.
We recognize the ability of the crypto market's volatility to be harnessed as a strength. During periods of sideways volatility, we actively trade to accumulate crypto. This involves selling during price downturns, rebuying at the bottom, and selling again when prices begin trending downward, thereby accumulating additional crypto.
Cryptocurrency: A Multipurpose Hedge
In the current banking industry crisis, which threatens to wipe out trillions of dollars in global equity, many investors turn to hard assets for portfolio rebalancing. Assets such as real estate, precious metals, bitcoin (BTC), and other select crypto assets have gained favor. CKC.Fund firmly believes in the importance of these assets, especially during bearish and uncertain periods.
A small crypto allocation can act as a form of wealth preservation insurance against economic catastrophes, including hyperinflation, stagflation, currency collapses, and stock market crashes. While the recommended crypto allocation can vary based on several factors such as age, risk tolerance, and investing goals, we suggest a baseline minimum of 1-2% for even ultra-high-net-worth individuals.
Crypto's Unique Attributes as a Global Alternative Asset
While the correlation of crypto assets to global macroeconomic events is a contentious topic, at CKC.Fund, we believe crypto shows a lower correlation than other asset classes, backed by data.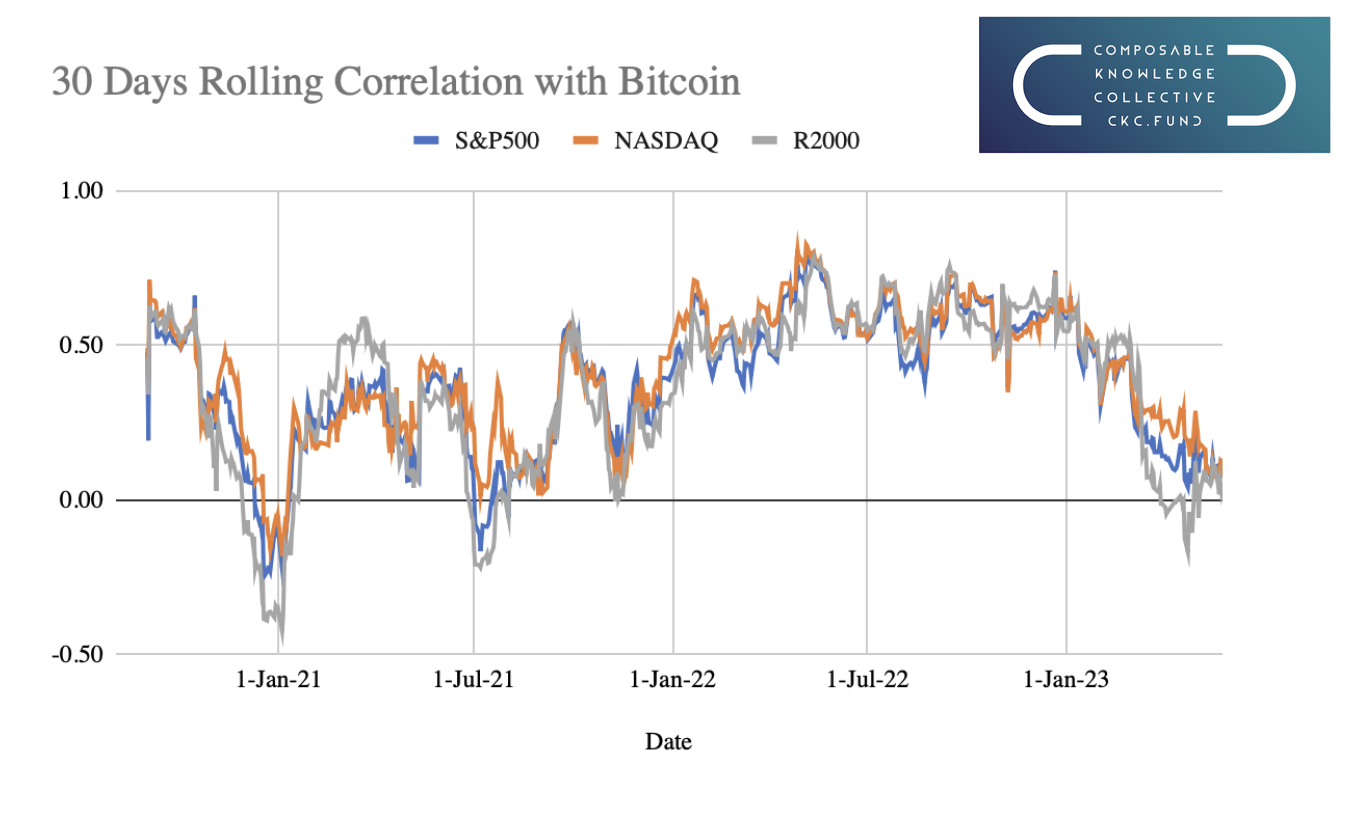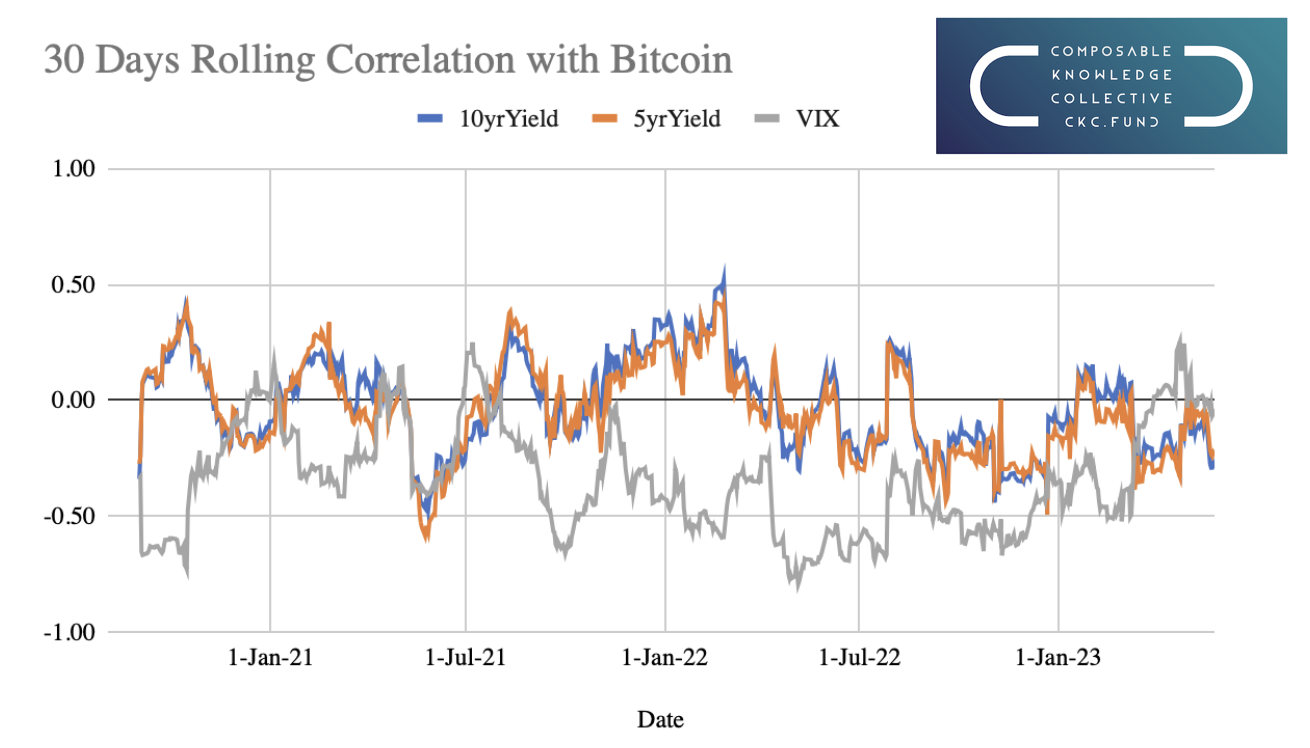 In terms of portfolio diversification, we consider cryptocurrency to play a crucial role within an alternative asset allocation. One of the major advantages of cryptocurrency as an alternative asset is its borderless nature, allowing global participation and avoiding location-specific issues that might affect assets such as real estate.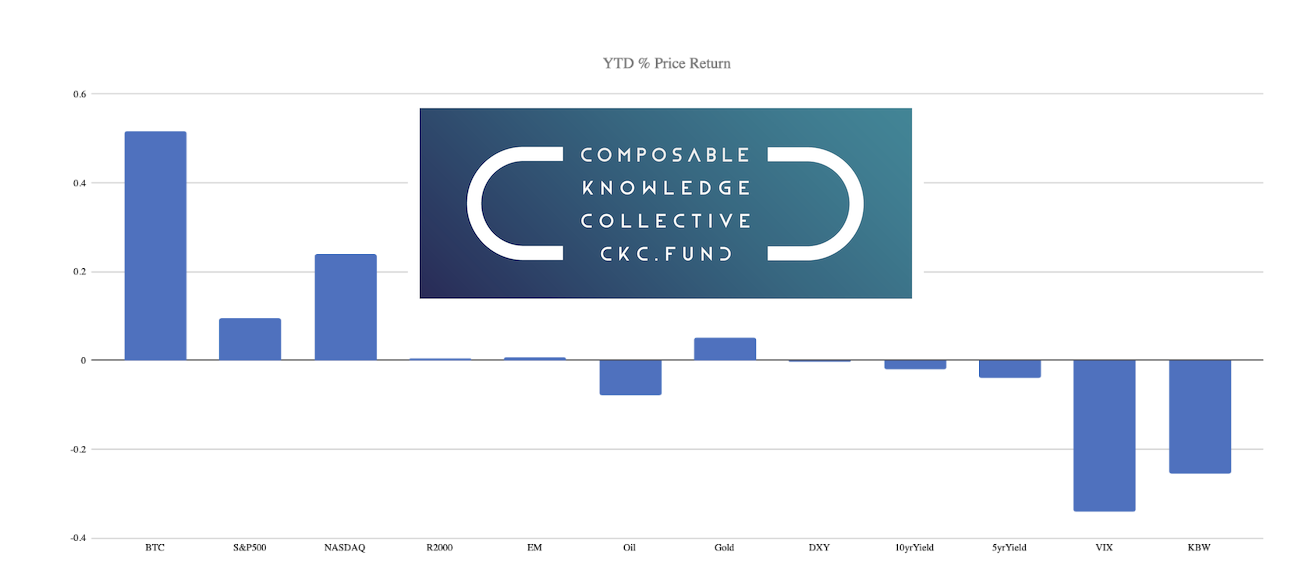 Embracing Crypto Investment: The Forward-Looking Approach
Crypto investment is no longer a fringe alternative asset class. At CKC.Fund, we encourage high-net-worth individuals to include it as part of their alternative asset allocation. We recommend that around 5% of an investor's portfolio should be invested in crypto, although this can depend on several factors.
CKC.Fund is confident that cryptocurrency investment will become an increasingly important part of a well-diversified portfolio. As an early-stage alternative investment that has been overlooked until the late 2010s, this sector presents a tremendous opportunity for those willing to understand its value proposition and deploy their capital to leverage the high-return potential that this asset class offers.